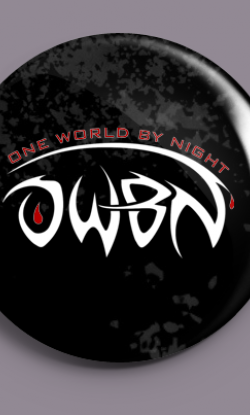 Show that you are a part of our collaborative community of live action role-players.
The One World By Night logo was developed and selected by members of our community. Thanks to David Herold for the logo design, and thanks to those who participated in our logo creation process.
Product Details
2.25" diameter
Pin-back fastener
Limited Print Run
We ordered a limited number of buttons, so please make your pledge ASAP to reserve yours. If you do not want to purchase your button online, they will be available for a $3 donation at Midwinter (at the check-in desks for the Camarilla and Mage games). We cannot guarantee that we will have buttons for you unless you order in advance.
If you want to donate and receive a buttons but can't attend Midwinter, shipping options are available (via USPS) - please review those options during the Checkout process.
The proceeds from your donation will go towards the OWBN Marketing Fund, which will be used towards promoting and supporting OWBN Chronicles, events, and our community.