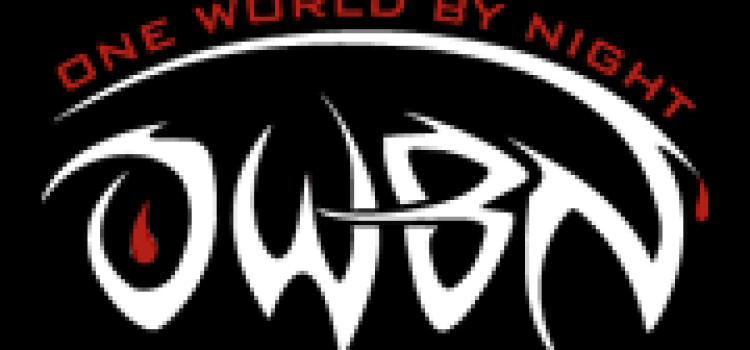 THE OFFICIAL ONE WORLD BY NIGHT LOGO CONTEST!
OWbN's Marketing Team is working on several projects to build on the community that we already have and also add new players to it, promoting integration between games, especially in relation to US-Brazil.
Therefore, we are hosting this official contest to renew the OWbN LOGO, considering that the process of creation and choice involves the participants of our community. The current version served us very well, but it's time to upgrade our brand!
Be as creative as you like, there are no color or shape restrictions. We look forward to having a variety to choose from!
The Winner, of course, will have his/her design representing One World by Night everywhere we are, in addition to receiving gifts of the marketing team!
Contestants will also be rewarded for their participation. All those who have logos chosen to vote will receive OWbN and World of Darkness gifts (buttons, shirts, backpacks etc.).
HOW TO PARTICIPATE
1. REGISTRATION AND SUBMISSION OF LOGOS TO CONTEST:
a. Deadline: submissions will be accepted till Midnight EST, Thursday May 11th, 2017.
b. Submissions only accepted by e-mail: owbn-marketing@googlegroups.com
c. Art format: jpeg or pdf in high resolution
d. Information: Full name and relation with OWbN (player, ST, Coord, Subordord...).
2. SCREENING
After submitting redesign proposals for the logo, the Marketing team will make a screening considering communication criteria, such as: suitability to brand positioning (an international network of World of Darkness live-action role-playing games) and harmony between: concept, typography, colors, applicability (pieces, medias, gifts, T-shirts etc.)...
We suggest avoiding complex creations, because the idea is to be easy to read and eye catching. No profanity or anything that would be considered inappropriate by a reasonable person (I will find one to help judge).
3. VOTING
Then, the Marketing team will send the voting options among those that best suit the OWbN brand update, through a form in which all members of our community can vote.
NEW LOGO IN GAME!
After the vote, we will start to update the materials gradually, especially in the projects we have for this year: Newsletter, Events Calendar, Social Media etc.
IMPORTANT: By submitting the redesign proposal, the participant confirms that he or she is the copyright owner of the logo and authorizes the use of the trademark created, at no cost to OWbN, as it is a voluntary contest.
Good luck to all participants! And, please help spread the word! In case of doubts and suggestions, the Marketing team is at your disposal!
---
CONCURSO OFICIAL DO LOGOTIPO ONE WORLD BY NIGHT!
A Equipe de Marketing da OWbN está com vários projetos para construir com a comunidade que já temos e também adicionar novos jogadores, promovendo a integração entre jogos, especialmente na relação EUA-Brasil.
Portanto, estamos organizando este concurso oficial para renovar o LOGOTIPO OWbN, considerando que o processo de criação e escolha envolve os próprios participantes da nossa comunidade. A versão atual nos serviu muito bem, mas é tempo de atualizar nossa marca!
Seja tão criativo quanto você puder, não há restrições de cor ou forma. Estamos ansiosos em ter variedade de escolha!
O Vencedor, obviamente, terá seu design representando One World by Night em todos os lugares onde estamos, além de receber brindes da equipe de marketing!
Concorrentes também serão premiados pela participação. Todos aqueles que tiverem logos escolhidos para o voto receberão brindes do OWbN e do Mundo das Trevas (bottons, camisetas, mochilas etc.).
COMO PARTICIPAR:
1. INSCRIÇÃO E ENVIO DE LOGOTIPOS PARA O CONCURSO:
a. prazo: inscrições serão aceitas até a meia noite do dia 11 de maio de 2017 nos EUA e 1:00 no Brasil.
b. envio da proposta de logo exclusivamente pelo e-mail: owbn-marketing@googlegroups.com
c. formato da arte: jpeg ou pdf em alta resolução.
d. informar: nome completo e relação com a OWbN (jogador, ST, Coord, Subcoord...).
2. TRIAGEM
Após o envio das propostas de redesign do logotipo, o time de Marketing fará uma triagem considerando critérios de comunicação, tais como: adequação ao posicionamento de marca (uma rede internacional de jogos de RPG live-action do Mundo das Trevas) e harmonia entre: conceito, tipografia, cores, aplicabilidade (peças, mídias, brindes, camisetas etc.)...
Sugerimos evitar criações complexas, pois a ideia é que sejam de fácil leitura, atraente aos olhos. Nenhuma imoralidade ou qualquer coisa que seja considerada inadequada por uma pessoa normal deverá ser utilizada (encontrarei alguém para julgar isso).
3. VOTAÇÃO
Em seguida, o time de Marketing enviará as opções para votação entre as que mais se adequam a essa atualização da marca da OWbN, por meio de um formulário em que todos os integrantes da nossa comunidade poderão votar.
NOVO LOGOTIPO EM JOGO!
Após a votação, vamos começar a atualizar os materiais gradativamente, em especial nos projetos que temos para este ano: Newsletter, Calendário de Eventos, Mídias Sociais etc.
IMPORTANTE: ao efetivar a inscrição enviando a proposta de redesign, o participante confirma que é proprietário autoral do logotipo e autoriza o uso da marca criada, sem ônus para a OWbN, por se tratar de um concurso voluntário.
Boa sorte a todos os participantes! E, por favor, ajudem a divulgar a iniciativa! Em caso de dúvidas e sugestões, a equipe de Marketing está à disposição!