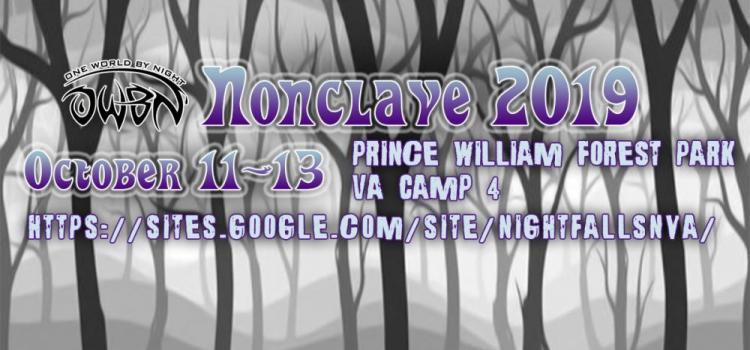 October 11-13, 2019
Prince William Forest Park, VA Camp 4
GPS Address: 16675 Pleasant Rd. Dumfries, VA 22025
https://sites.google.com/site/nightfallsnva/nonclave-2019
At this moment we are looking at Garou (Saturday only and a Soft RP) and Sabbat (Friday and Saturday) both running during the day and Camarila/Anarch/Indy running at night.
There will be also a Gangrel fire, hosted IC by Svidi
Check in will start at 11:30pm on Friday and check out will be 10am on Sunday.
$25.00 for the Event MUST BE PREPAID - No Money Can Be Taken At Site
paypal.me/nonclave2019 or michaleklb@gmail.com - for Paypal
www.venmo.com/Lou-Michalek

$15.00 per car load paid at site with Park Rangers OR
Prince William Forest Park Fee Pay App
Introducing a new way to digitally pay the park entrance fee. You may now purchase your entrance fees for the park through the Prince William Forest Park Fee Pay App. Conveniently make payments from anywhere with no additional charge. The app is available for download in the App Store and with Google Play. Can pay in advance a month out.